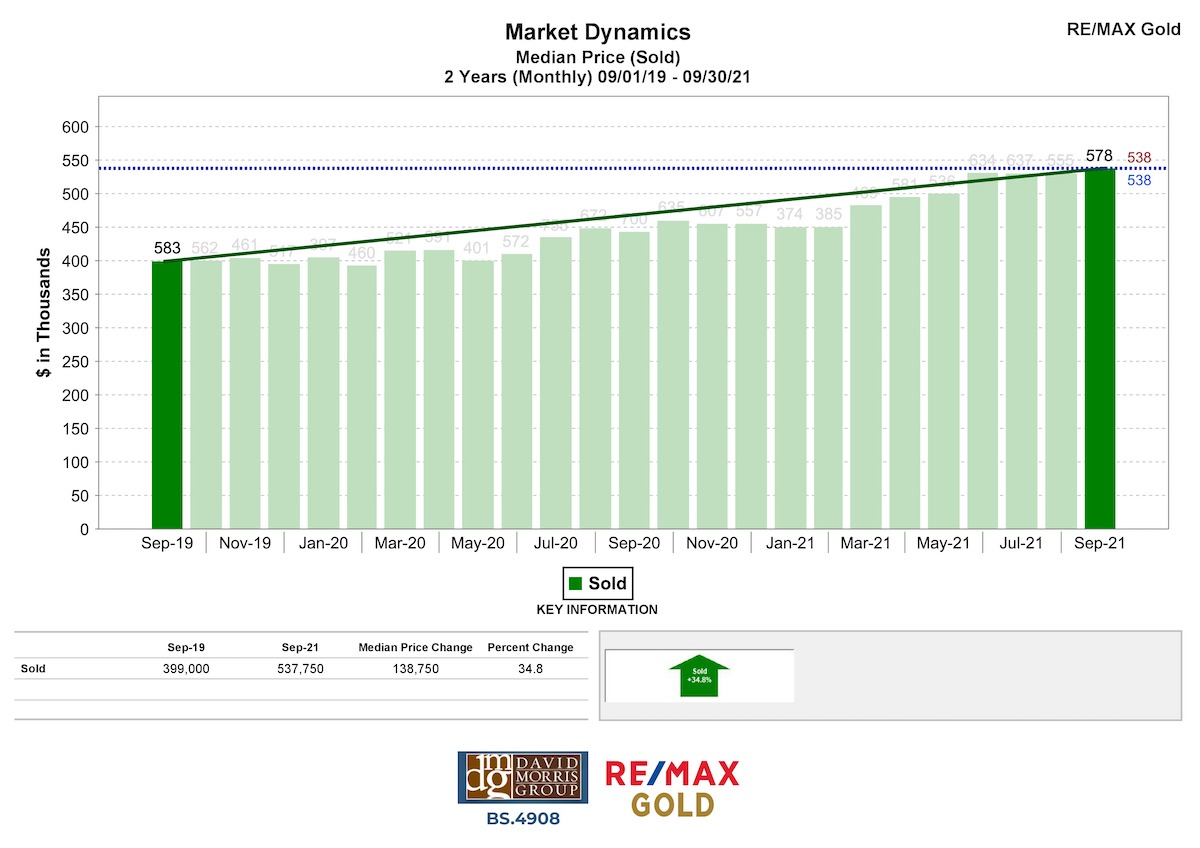 The past year and a half has brought all eyes to the real estate market. With inventory levels depleting quickly, days on the market shortening, and multiple offers coming in above asking price, the market was extremely competitive. Now that summer has come to an end, everyone's asking, "is the housing market cooling?" Take a look at the real estate predictions for fall.
What are experts saying across the nation?
Over the course of the fall season, it's expected that the real estate market will begin to cool across the nation. It's also expected that we'll be back to experiencing the normal seasonality of the market, with spring and summer bringing more homes and buyers to the market, while the fall and winter months will bring only serious buyers and sellers to make a transaction.
With the market cooling also comes more homes on the market and less competition as some may only have a moving window in the spring and summer months. Buyers will have more options to choose from in their price range, homes aren't flying off the market as quickly as they're put on, and seeing bidding wars between buyers for thousands of dollars above asking price is less common.
What are we actually seeing across Washoe County?
While we'd love to tell buyers that there has been an immediate cooling to the market, it's still a very competitive market. The median sold price of homes in Washoe County in September 2021 was $537,750, an increase of 34.8% since September 2019, and it doesn't look like home prices will be falling anytime soon. In September, the number of homes for sale decreased 48.3%, the number of homes sold decreased .9%, and the number of homes that went under contract increased 14.8% from this time two years ago. Inventory levels are holding at one month, which is a drastic change from the 3.4 months of inventory on the market in September 2019.
If September is any indication of what we should expect from the rest of the fall season, we may experience a slight cooling to the real estate market, but with inventory levels remaining low and demand still remaining high, it's likely that Reno will be a hot market to watch in the coming months.
If you're curious about the Reno real estate market and how it's changing, contact the David Morris Group. We're happy to be your Reno resource, and if you're hoping to buy or sell a home in the coming months, we're happy to help you navigate the fast-moving market. Give us a call at (775) 828-3292.
https://davidmorrisgroup.com/wp-content/uploads/2021/10/David-Morris-Group-Is-the-Housing-Market-Cooling_-Real-Estate-Predictions-for-Fall-Reno-Real-Estate-Market-Fall-2021-Housing-Market-Predictions-Reno-Nevada-Housing-Market.jpg
848
1200
Shauna Morris
https://davidmorrisgroup.com/wp-content/uploads/2015/03/david_morris_head_logo.png
Shauna Morris
2021-10-22 15:58:09
2021-10-22 15:58:09
Is the Housing Market Cooling? Real Estate Predictions for Fall