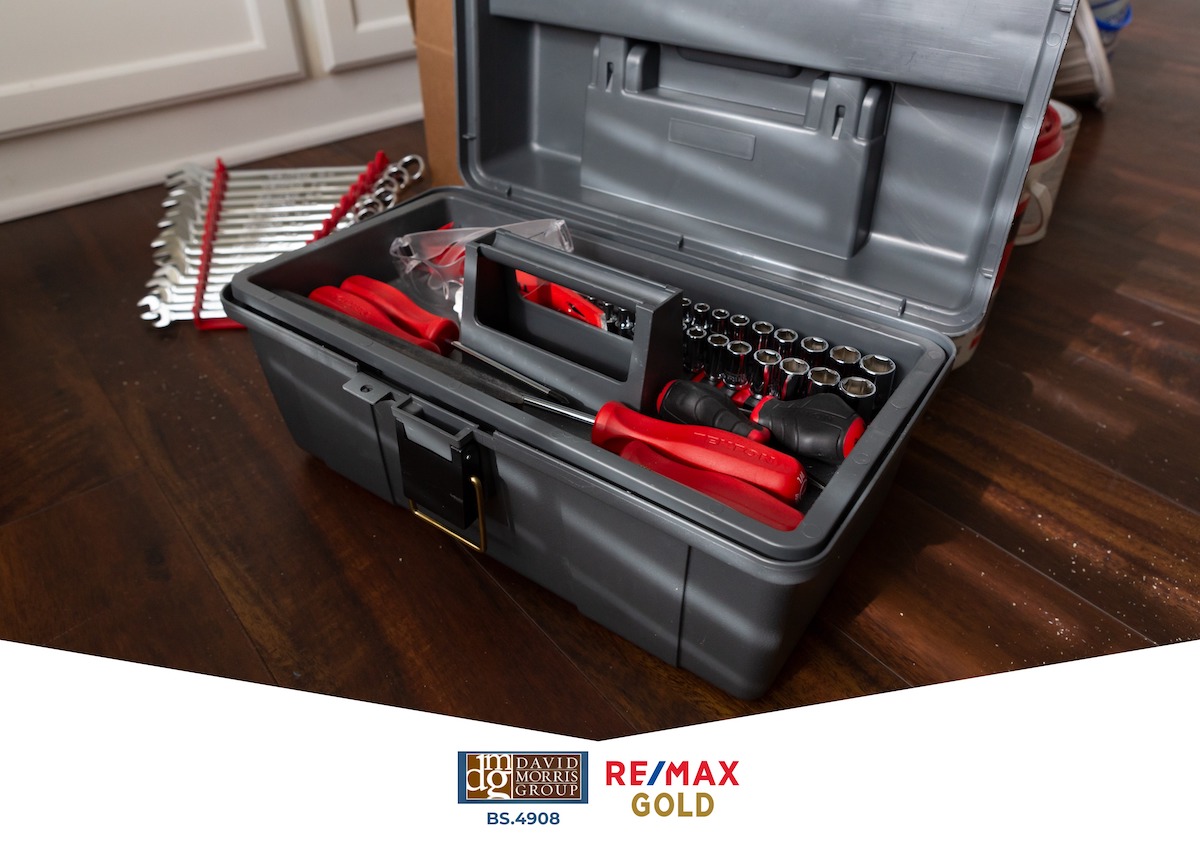 One of the biggest differences between being a homeowner and being a renter is that homeowners are responsible for taking care of any maintenance issues that may come up themselves. As a first-time homebuyer, it's important to know the common home repairs homeowners face and the essential tools to have on hand to fix them.
Common Home Repairs
In your time as a homeowner, it's likely that you'll deal with:
Leaky faucets – Leaky faucets are very common, yet usually an easy fix. If leaky faucets are left, they can have some big impacts on your water bill.
Window and door drafts – Every other season, you'll want to locate any drafts and properly seal them. Taking care of drafts will keep utility bills low.
Loose screws – Doorknobs and furniture get a lot of use, allowing screws to loosen.
Squeaky doors – As moisture and debris add wear and tear to door hinges, you may notice some squeaking. A lubricant spray can keep those hinges quiet.
Indoor air filter changes – Air filters typically last about three months before they need to be changed. Changing the air filter regularly keeps the air in your home rid of dust, dander, and odor.
Leaky pipes – If you think you may have a leak in a pipe, run a test. You may find that it's in an area you can access easily and a simple fix, but treat it quickly, because it can cause bigger problems and repairs in your home.
Garbage disposal trouble – Know what you should and should not throw down the garbage disposal to increase the life expectancy of the disposal in your home. If you do run into trouble, it's relatively easy to replace your garbage disposal.
Running toilet – Toilet repairs are often thought to be complicated, but they are usually pretty easy to fix.
Nail pops – As your home shifts, the drywall nails may start to protrude, causing the paint to "pop" out or bubble slightly.
Cracking caulk or grout – Multiple uses in the bathroom and kitchen can cause caulking and tile grout to fade and crack. Adding new caulk and grout is an easy fix.
Many of these home repairs can be fixed without calling a professional, but you need to make sure your toolkit is stocked with what you'll need should a repair spring up.
Essential Tools to Have On Hand
Tape measure
Plunger
Hammer
Level
Pliers
Wrenches and hex keys
Multi-bit screwdriver
Nails
Screws
Caulking gun and caulk
Electrical tape, duct tape, and painter's tape
Lubricant spray
If you're equipped with a great toolbox and have access to how-to videos, home repairs can be a cinch to take care of. Now that you know the common home repairs homeowners face and the essential tools to have on hand, you're more prepared to be a homeowner. If you're interested in the tools we have in our toolbelt to help first-time homebuyers purchase the right home, contact the David Morris Group at 775-828-3292. We're happy to share our knowledge and skills to help you become a homeowner.
https://davidmorrisgroup.com/wp-content/uploads/2021/01/David-Morris-Group-The-Reality-of-Real-Estate-Common-Home-Repairs-Homeowners-Face-and-the-Essential-Tools-to-Have-on-Hand-Home-Repairs-Common-Home-Repairs-Tools-to-Have-at-Home.jpg
848
1200
Shauna Morris
https://davidmorrisgroup.com/wp-content/uploads/2015/03/david_morris_head_logo.png
Shauna Morris
2021-01-12 15:51:52
2021-01-15 15:57:46
The Reality of Real Estate: Common Home Repairs Homeowners Face and the Essential Tools to Have on Hand